The Five Best Sneaker Stores in Barcelona
Barcelona. Sure at first glance the city is beautiful, boasting gothic architecture, abundant street art and breezy beach views. However, hidden amongst its winding cobblestone streets and alleys, Barcelona has a trove of sneaker stores any self respecting sneaker-junkie should have on their "must visit" list.
In addition to the usual stand alone brand stores (Adidas, Nike etc. ) and the chain outlets (Foot Locker, Decathlon), Barcelona is home to a number of specialty or concept sneaker boutiques. Whether you're a hardcore sneakerhead looking for your next rarity, or just a casual consumer of the athleisure trend, Barcelona has something for everyone. Here are a few favourites discovered recently.
Last summer a helpful Adidas store employee directed me to Limited Editions in the Gothic quarter when I was on a desperate hunt for NMDs. While they only ended up having mens' sizes, Limited Editions is the OG of Barcelona sneaker stores with regular updates in the hardest to find drops and collabs. Don't expect to find a large stock of staples though, this place is mostly for serious collectors.
Luckily the owners of Limited Editions directed me to their women's store in the El Born area to continue my search. While the shop can be hard to find (even upon return visits) this store is a must for the ladies who have their heart set on something exclusive. In addition to the latest hard to find sneakers available in small sizes (kids and women) they carry a small assortment of streetwear brands like Off-White, Wood Wood and Stella McCartney for Adidas. Make friends with the owner and she might bring out a few gems that are not on display, which is how I eventually got my primeknit Adidas NMDs (pictured right).
Just around the corner from Limited Editions Women, this well stocked store carries a wide variety of brands from the big names (Adidas, Nike, Vans, NB) to the smaller ones (Gola, Le Coq Sportif). You can find updated staples as well as the occasional exclusive collaboration.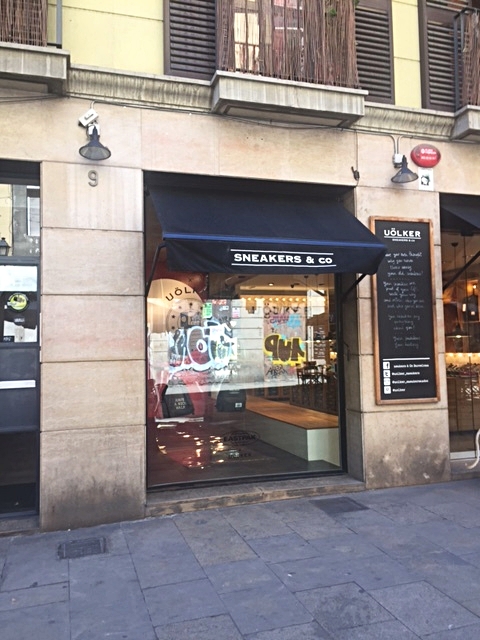 Make a pitstop here while touring the El Born area of Barcelona.
Carrying a large collection of big box brand and niche sneakers including Saucony, Le Coq Sportive and Onitsuka Tiger, this store has something for everyone. Whether you're trying to find your next training shoes or simply updating your current Stan Smiths, this place has everything.
24 Kilates in the Born area is mandatory stop for all sneaker heads, streetwear enthusiasts and fashionistas alike. More of a lifestyle store, the boutique carries footwear and a good range of apparel brands including Patta, Puma, Fila and Stussy. You can also find exclusive drops and browse their easy to navigate online store.
Do you have any additional recommendations? Leave a comment below.